DIGITAL MANUFACTURING
Smartly COMBINED
XENIOS®, the smart software solution for
complex automation requirements.
The combination of classic machine control and master computer enables precisely controllable and reliable production processes. From equipment configuration to Internet-of-Things applications, XENIOS® comes with a comprehensive range of features.
A flexible module system and multiple interfaces provide the digital basis for excellent manufacturing results.
Ready for IoT – The baseline for Big Data applications
XENIOS® simplifies monitoring, maintenance and analysis tasks in manufacturing. The smart software solution communicates in real time and submits job data and production status automatically to higher level manufacturing execution systems (MES). This ensures an up-to-date process data, increases the added value of the entire production planning and provides the ideal environment for long-term optimizations using Big Data Analysis.
From smartphones to stationary monitors, the web-based, user-friendly and responsive HMI transmits information to each end device. Customized views provide transparency and help operators monitor all process-relevant data.
Architecture & Technology
Machine & production data acquisition
Event handling & alarm statistics
Individual user profiles & dashboards
Online process visualization
Responsive web interface
Connection to the XENON Service Portal
Material tracking
Single actuator control
Process data collection
Job handling
User administration
Recipe management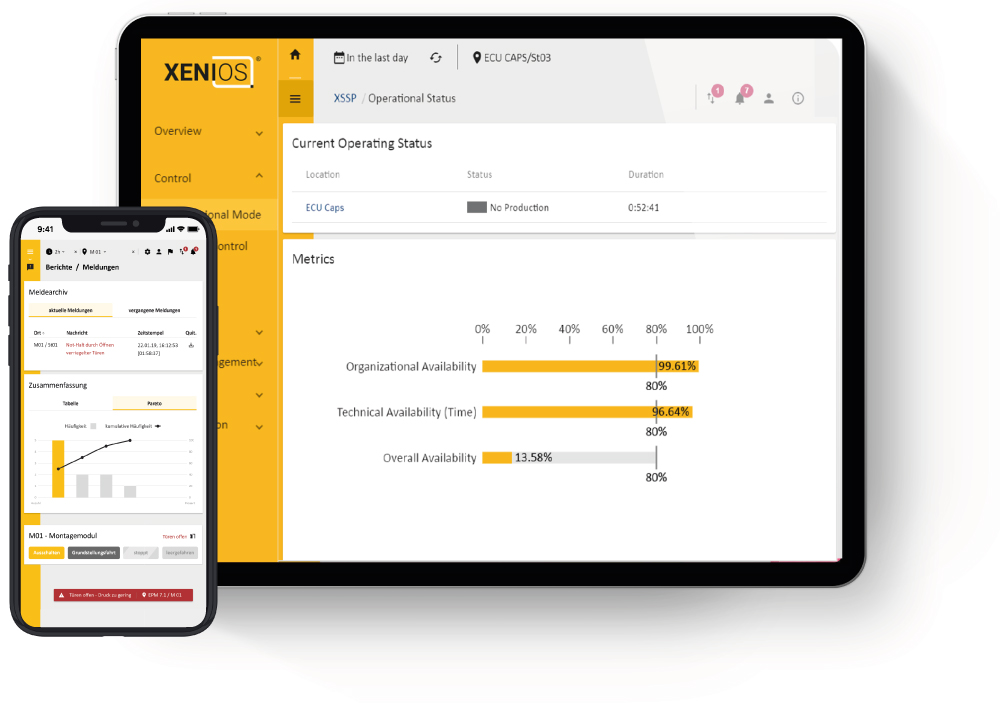 Simply request a personal demonstration today to learn about:
Time and cost reductions by equipment configuration in one system
Traceability and intelligent troubleshooting
Increased productivity through optimized process control
Minimization of downtimes due to intelligent machine analysis
Versatility through flexible module system
XENIOS flyer download version
Request your free demo now
Would you like to know more about
XENIOS® and our digital services?
Just give us a call.